Powerhold Manufacturer of the Year
Futura Transitions by Bonnell Aluminum received the 2021 Manufacturer of the Year award from the Powerhold group during the 2022 Surfaces event.  The criteria for this recognition include superior marketing engagement, outstanding strategic service to distributor members and value added through cost and quality of products.  Spencer Burt, Sales Manager for Futura Transitions, received the award from Powerhold Executive Director Jeff Brugman expanded on the importance of the relationship.  "We are grateful for the partnership we have with Powerhold.  They play an essential part in our new product development and bringing greater product awareness to the marketplace through their marketing efforts.  We are thankful for our relationship with Powerhold distributors who drive success through strategic selling, new product ideas and nurturing market relationships."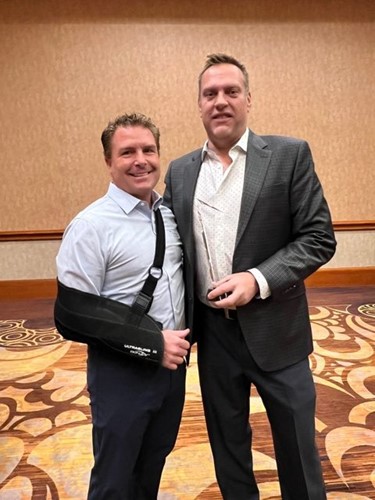 For more information about the event including a full list of Powerhold award recipients click the link below.
Click here for more about the 2021 Powerhold awards