Fabrication & Assembly
An aluminum extrusion isn't always ready for immediate use when it comes off the press. It's common for extrusions to undergo various fabrication and assembly processes to convert them into functional components for their specific end-use applications.
For 70 years, Bonnell Aluminum has been your trusted partner in custom aluminum extrusion, fabrication, and assembly. Our precision-driven process is backed by decades of manufacturing experience and aluminum extrusion knowledge, and our 'one-stop-shop' approach ensures every order is consistent, correct, on time, and within budget.  
Our Capabilities Include: 
Precision Straight and Miter Cutting

 

Vertical Milling up to 120"

 

Horizontal Milling up to 26" x 27"

 

Robotic and CNC Machining

 

Manual and Automatic Deburring

 

Rotary, Push, and Stretch Bending

 

Punching/Piercing

 

Robotic, MIG, and TIG Welding

 

Riveting

 

Kitting

 
Our dedication to lean manufacturing allows us to streamline our processes and provide customized solutions, saving you time and money. If you need to join extrusions together, our on-site assembly teams are experts in manual and robotic welding, riveting, and other fastening technology. 
With our ability to turn around aluminum fabrication projects quickly,  you can count on Bonnell Aluminum for all your custom aluminum extrusion needs.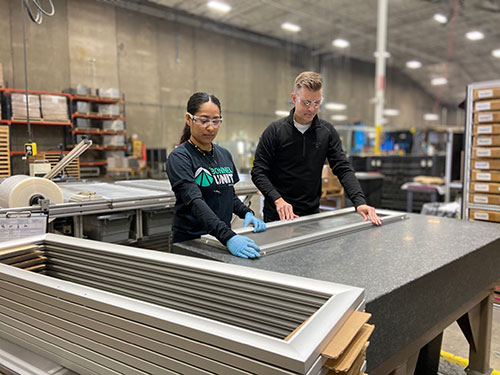 "The door frame assembly is "front & center" on this product and requires very high-quality appearance (anodize color must match & die lines have to be minimal!). The 17 assemblies have tight manufacturing tolerances and Bonnell has continued to provide us these assemblies with nearly "seamless" corner connections.
Our supply chain team estimated we might see as much as 5% non-conforming on door frame assemblies during production. We've actually seen well under .5% during almost 5 years of production."
Rick Middleton,
Senior Buyer-Dental Furniture Operations
A-dec
Please submit the form below to request more information on this capability.