Fabrication & Assembly
Our focus on lean aluminum fabrication and manufacturing can be seen in many areas throughout the fab shop. Using special automated tooling, we can often combine multiple operations into a single efficient process to save you time and money.
And by designing flexibility into all our aluminum fabrication processes—from making equipment portable to allowing for just about any extrusion configuration—you get completely customized services every time you work with us.

Automatic part positioning, custom made clamping, in-process error proofing, and diamond tooling enable Bonnell Aluminum to produce within tight tolerances with superior surface finish qualities. And, if assembly saves you shop floor time in your business, we can fit that need.

Aluminum fabrication is vital for several different products. From automobiles to solar panels and store fixtures to electronics, aluminum can be found in nearly every industry.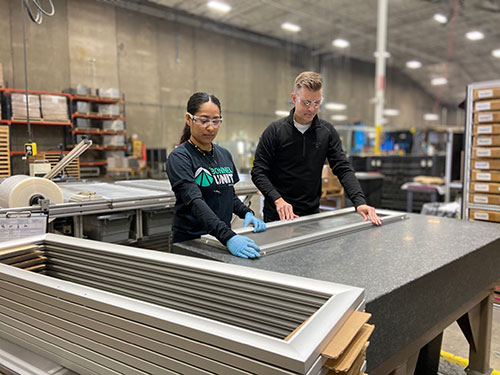 At Bonnell Aluminum we're constantly improving our in-house fabrication capabilities to meet your unique needs. With a wide selection of automatic and manual drilling equipment, as well as a comprehensive array of deburring tools, we ensure consistent yet customized quality for aluminum fabrication projects of all sizes. That means your job gets done right the first time—and your product gets to you faster every time.

From simple to complex aluminum component fabrication and assembly, it is just one more aspect of our Excellence Beyond Extrusion mantra.
"The door frame assembly is "front & center" on this product and requires very high-quality appearance (anodize color must match & die lines have to be minimal!). The 17 assemblies have tight manufacturing tolerances and Bonnell has continued to provide us these assemblies with nearly "seamless" corner connections.
Our supply chain team estimated we might see as much as 5% non-conforming on door frame assemblies during production. We've actually seen well under .5% during almost 5 years of production."
Rick Middleton,
Senior Buyer-Dental Furniture Operations
A-dec
Please submit the form below to request more information on this capability.