Utah Manufacturers Association Announces 2018 Manufacturers of the Year at Annual Awards Banquet
Nov 15, 2018
At the 113th Annual Awards Banquet for the Utah Manufacturers Association held on November 3, 2018, Futura Industries was recognized for outstanding execution in operational performance and best practices, economic achievement, workplace safety, community and state involvement, public outreach and fidelity to the principles of free enterprise.
Jared Bringhurst, President of Futura Industries (pictured above, center) accepted the award for Futura.
When asked, "What things in operational excellence does Futura do to become the best?" Jared summarized it this way, "Our success is really from adhering to our ISO processes and standards we have in place.  Our standardized work and continuous improvement efforts, specifically our "waste-stopper" program… (which) allows our employees to get engaged and to share their innovative ideas… Probably our most important (focus) would be our appreciation and development of people.  That's the greatest resource and greatest asset that we have!"
Futura is a leading manufacturer of world-class custom aluminum extrusions possessing a culture of continuous improvement and determination to add value for our customers.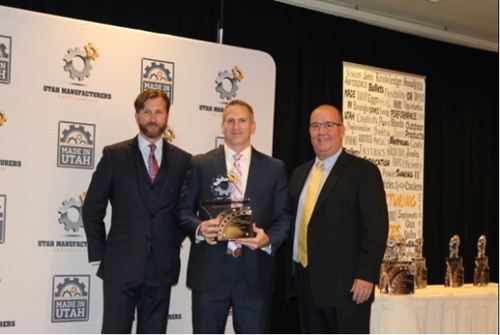 A link to the full interview can be found here